Dive into the world of American Standard, a century-old titan in the plumbing industry, renowned for their stylish and functional walk-in tubs. Transform your bathroom into an aquatic haven with their luxurious water jets and a spa-like experience. Wondering how luxurious and secure these tubs are for your loved ones?
Join us on a thrilling journey as we unravel the secrets of American Standard's walk-in tub line, share our exclusive factory tour experiences, and engage in enlightening conversations with the brand's experts. Buckle up and read on to discover if American Standard's alluring walk-in tubs are the perfect fit for you!
But first, immerse yourself in our comprehensive guide to this year's top-rated walk-in tubs.
Top-Rated Tubs: To learn more about walk-in tubs, be sure to check out our guide to this year's best walk-in tubs.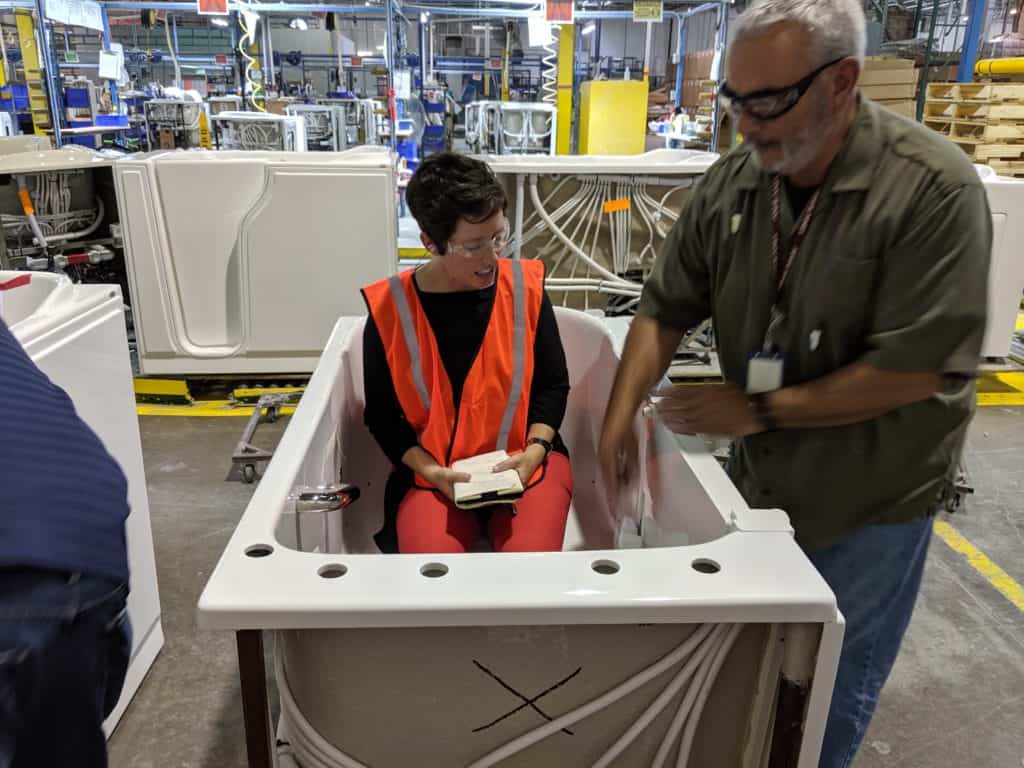 American Standard Pros and Cons
If you're short on time, here's what I took away from my experience with American Standard.
Safety and Style: Often, I find that devices designed to keep older adults safe come at the expense of aesthetics. Tennis balls on a front wheel walker, anyone? Luckily, each of American Standard's walk-in tubs provides a safe way to bathe with sleek and elegant design. Plus, many of their models were ADA compliant, meaning they met the highest standard of accessibility for people with disabilities.
Luxury Features: When all is said and done, we want bath time to be a source of comfort and relaxation. Luckily, American Standard walk-in tubs have luxurious features such as targeted massaging jets, aromatherapy, and even chromatherapy, a system of soothing lights submerged in the water. It turns a regular bath into a spa-like experience.
Professional Installation: Although I'm an expert when it comes to older adults, home improvement projects are not my strong suit. Thankfully, the experts at American Standard handle everything, from measuring out a space in your bathroom to installing the actual tub. You'll hardly have to lift a finger. Best of all, installation came at no additional cost.
Cost of Entry: American Standard walk-in tubs, like most finer things in life, come at a hefty price. Their most affordable options start at around $5,000, and additional features such as support bars often cost extra.
Limited Tub Volume: While I had no issues fitting into my American Standard tub, many larger folks might have trouble squeezing in. For these people, I would recommend checking out a bariatric walk-in tub, a special type of tub designed to be wider.
Limited Warranty: Much like a sink or toilet, a tub should last for a long time. That's why I was disappointed that American Standard only included a lifetime warranty on the tub's door seal, while its shell and components are only covered for 15 and 10 years, respectively. I wish that American Standard was more like Kohler in this respect, as they offer a lifetime warranty on both the workmanship and tub itself.
Who Is American Standard?
American Standard specializes in plumbing and building products. The company was first founded in 1875, as the Sanitary Standards Manufacturing Company. Back then they pioneered many of the plumbing fixtures we take for granted, including combination faucets, one-piece toilets, and corrosion-resistant coating for brass fittings. By 1929 they were the world's largest bathroom fittings manufacturers. In 1967 the household name American Standard was adopted, and these days they supply bathroom fixtures and fittings to homes, businesses and venues around the country.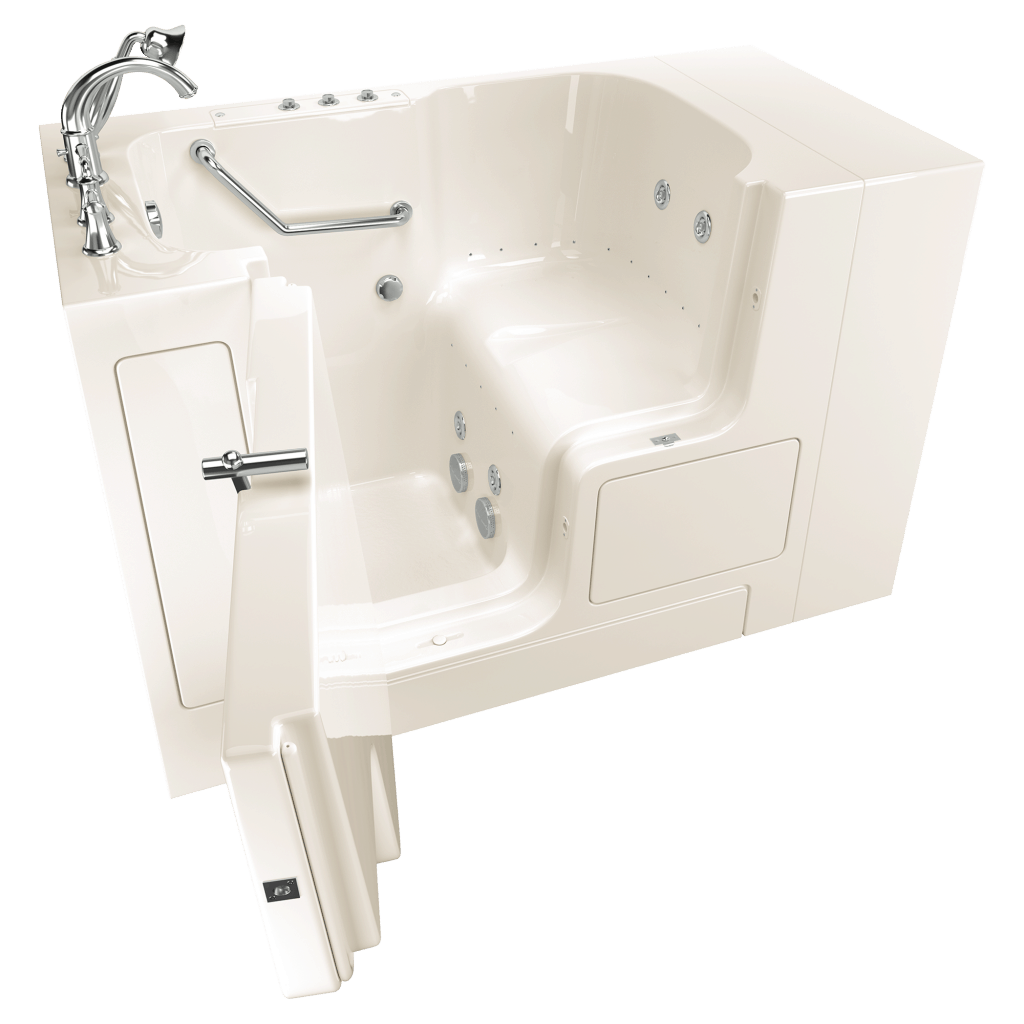 In fact, according to their website, American Standard is in three out of five homes in the United States today. They have a long legacy and a strong reputation for quality and usefulness.
One of American Standard's offerings is walk-in tubs. They have an impressive range of tubs with various additional spa-like features for an even more relaxing bathing experience. Let's take a closer look at what they offer.
How To Purchase an American Standard Walk-In Tub
To many, it might seem like a stressful prospect to purchase an American Standard walk-in tub. Unlike other caregiving devices like medical alert systems that can fit in the palm of your hand, a walk-in bathtub takes a bit more work. Likely, you already have a tub or shower in your bathroom, so that has to be dealt with. Making matters more complicated, American Standard has hundreds of different models in their online store, so it could be difficult to know where to start.
Luckily, nearly all of these concerns can be addressed by logging on to American Standard's website and requesting a free installation estimate. In a matter of days, they'll dispatch one of their professional bathroom safety specialists to your home. They'll assess the specifics of your bathroom and walk you through which tub models would be best suited to your needs and the constraints of your space.
Purchasing Advice: While American Standard's full range of walk-in tubs can be purchased online, they can also be found in stores such as Lowe's and Home Depot, so you can check them out in person.
Types of American Standard Walk-In Tubs
Currently, American Standard offers four different types of walk-in tubs. While nearly all of these tubs feature built-in grab bars and quick fill/draining, we found there are several key differences. Here's a brief overview of the different American Standard categories of tubs:
Walk-In Air Baths: Don't let the name fool you; walk-in air baths still use water like a traditional bathtub. The air refers to the plethora of jets found within the body of the tub that pump air through the water, giving the effect of a massage. With most of these models, the jets are also adjustable.
Deep Soaking Tubs: For a luxurious experience, look no further than a deep soaking tub. This type of tub, while still possessing a walk-in entry, is deeper than other models, allowing you to fully submerge your body in the water.
Walk-In Whirlpool Tubs: Similar to an air bath, a whirlpool tub creates a massage effect with a series of jets. Unlike an air bath, however, whirlpool jets propel water for a stronger force.
Combo Massage Tubs: As the name implies, these walk-in tubs combine water jets with air jets. For those of us who can't decide between water and air jets, this would be a great option.
Savings Tip: If you purchase your walk-in tub directly from American Standard, the cost includes installation, whereas brick and mortar vendors usually charge an additional fee.
Most people are not aware of this but American Standard offers over two hundred different models of walk-in tubs, several of which I was able to examine as I toured their factory. While prices vary depending upon the specific model, here's a general overview of their pricing.
American Standard Pricing Overview
| Type of Walk-In Tub | Number of American Standard Models | Price Range |
| --- | --- | --- |
| Air Bath | 64 | $5,979 – $11,155 |
| Deep Soaking Tub | 58 | $5,340 – $8,979 |
| Whirlpool Tub | 63 | $5,592 – $10,697 |
| Combo Massage Tub | 66 | $6,928 – $11,981 |
Luxury Series Right Drain Walk-in Tub
At the American Standard Factory, I was given an up-close look at one of American Standard's higher-end models, the Luxury Series Right Drain Walk-in Tub, a combo massage tub with just about all the bells and whistles available.
Here's a rundown of its features which I got to see:
Handheld Showering Wand: This handy removable showerhead makes it easy to rinse any part of your body, even while seated.
Hi-Gloss Acrylic Construction: The acrylic construction of my tub is not only easy on the eyes, but it also makes your tub a breeze to clean. With just some paper towels and a solution of vinegar and water, you can wipe away any soap stains that accrue on the sides of your tub.
Whirlpool Massage System: As mentioned before, these 13 jets circulate water throughout the tub and massage your body. What's more, these jets are hooked up to an in-line heater which helps prevent the bath from getting cold while in use. They're even self-cleaning!
Air Spa System: Similar to the water jets, these 26 air jets provide a soothing sensation on the skin while also circulating the water throughout the tub.
Chromotherapy System: While the jury is still out on whether chromotherapy lights have tangible biological benefits, I can sure say that the lights in this tub helped put my mind at ease, even from outside of it.
Patented Watertight Door: An essential component of any walk-in tub, the watertight door allows for easy and safe entry and exit. Should it ever leak, this door is covered by American Standard's lifetime warranty.
Quick Drain: One problem with walk-in tubs is that you have to remain inside of them until the water drains, lest you open the door and submerge your bathroom in water. Luckily, with American Standard's patented Quick Drain technology, the water is actively pumped out through the drain. In under two minutes, you open the door and safely step out of the tub.
Push Button Controls: On the edge of this tub beside the door were three buttons that controlled the lighting and jet systems. This makes it simple to operate the advanced features.
Built-In Safety Grab Bar: Although you can purchase an additional grab bar for the area outside of your tub, there was also one built into the tub's interior, helping me to stand with no hassle.
Textured Bath Floor: With bathrooms being the most common site of falls for people of any age, I appreciated the stable footing provided by this tub.
My Luxury Walk-In Tub
There was a lot to love about this American Standard Luxury Series Tub, even without stepping inside of it. Right off the bat, I appreciated how elegant it looked in the showroom. Using a matching extender, the tub was able to fit it snugly against the wall. Additionally, its white acrylic construction and polished chrome faucet would pair nicely with almost any type of bathroom. With the addition of a safety grab bar on the wall bordering my tub, my total cost would come to $9,989, which is definitely on the higher end when it comes to walk-in tub prices. Still, the quality of this tub was undeniable.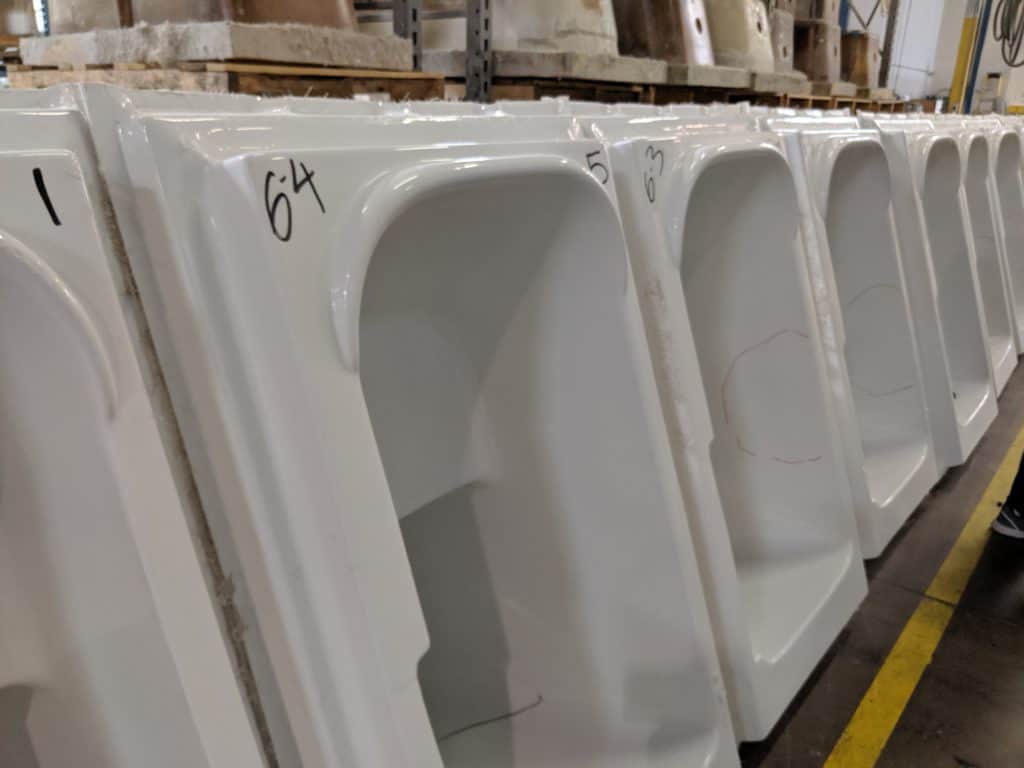 The first thing I noticed when I stepped into this showroom tub was the low height of the door's threshold. At only a few inches high, I didn't have to strain myself to get in and seal the door. The next thing that stood out was the textured acrylic floor. It was pleasantly rough, designed to ensure that I would not slip when sitting or standing in the tub. With falls being a leading cause of fatal injuries among older adults, I always appreciate features that help prevent them. Once I was seated in the tub, I shut its door and leaned back on my tub's cushioned neck rest.
I didn't go so far as to actually fill the tub. After all, I was fully clothed and in the middle of a warehouse! With that said, I could certainly feel the durability and comfort offered by this American Standard model. As I opened the door and stepped out of the tub, I was secretly wishing I had one of these in my own bathroom.
The More You Know: Although most of American Standard's walk-in tubs include safety grab bars, additional bars can be purchased for adjacent walls and installed with your tub.
Financing Options
While you can use a credit card to purchase a walk-in tub, American Standard also offers financing options. On their website, I was able to receive a free estimate and would have qualified for a twelve-month payment plan with no interest. This would be a great option for those intimidated by the large upfront costs.

Recap
There are many benefits of a walk-in tub. First and foremost is the safety component. Between low step-in thresholds and anti-slip surfaces, walk-in tubs provide a greater degree of safety than traditional baths and showers. Then, of course, there are the comfort features, the hydrotherapy, chromotherapy, and ergonomically designed seats that I've come to expect from companies like American Standard.
Although walk-in tubs are traditionally thought of as best for those with mobility issues, an American Standard tub would be great for just about anyone. Sure, the initial cost is relatively high, but in terms of the bathing experience, combined with both safety and luxury features, American Standard is hard to beat.