| | |
| --- | --- |
| Time Spent Testing | 168 Hours |
| Starting Price | $24.95 per month |
| Contract Minimum | 1 Month |
| Average Response Time | 16 Seconds |
| Customer Service Response Time | 5 Seconds |
Compared to other medical alert companies, Bay Alarm Medical offers a rare combination of durable equipment, advanced monitoring, and affordable pricing. I'd feel wholly confident that my loved one could stay safe using one of Bay Alarm's systems, both in and out of their home.
I tested Bay Alarm Medical's on-the-go system, and below is everything you'll need to know to determine whether it's right for you or your loved one.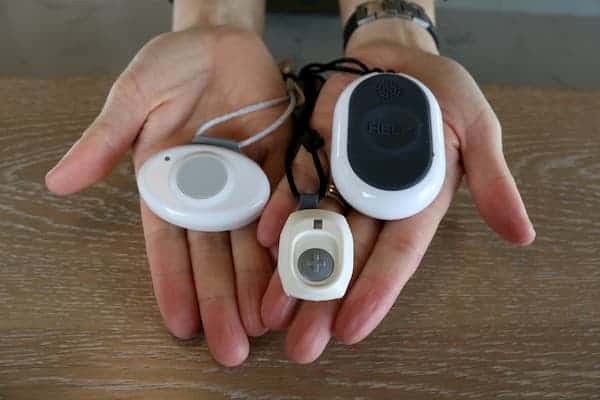 Bay Alarm Medical Pros and Cons
Here are my main takeaways from using a Bay Alarm medical alert system:
Bay Alarm Medical Pros
Affordable plans: Its in-home system goes for as low as $24.95 per month, making Bay Alarm Medical one of the most affordable medical alerts.
Straightforward equipment: From its in-home systems to its GPS-enabled medical alerts, Bay Alarm has some high-tech equipment. Still, all of its devices are user-friendly and easy to both install and use.
30-day trial period: For people unsure whether Bay Alarm is right for them, the company offers a 30-day trial period, during which you can return your device and receive a full refund. No long-term contracts here!
Smartwatch option: Bay Alarm Medical offers a medical alert watch, the SOS Smartwatch, which gives you medical alert safety features in a discreet package.
Helpful accessories: From fall detection pendants to lockboxes and wall buttons, Bay Alarm offers a range of affordable add-ons to augment the function of your system.
Bay Alarm Medical Cons
One-time fees: Bay Alarm's smartwatch and mobile system both come with pretty steep device charges: $179 and $99, respectively.
Bay Alarm Video Review
If you want to see my Bay Alarm medical alert system up close and personal, watch my video review below. I'll tell you exactly how Bay Alarm works, how much it costs, and what else it offers.
Bay Alarm Medical Systems Overview
I tested Bay Alarm's mobile system, but the company offers several systems and bundles. Here is an overview of each:
In-Home: Bay Alarm's standard system works like most in-home medical alerts, using a base station and help buttons. It has a 1,000-foot range, and it can be used with either a landline or cellular connection — but the cellular version costs a bit more. You can also add extra help buttons that can be mounted on your wall.
GPS Help Button: This mobile medical alert functions similarly to the in-home system, but its rechargeable battery allows you to take it just about anywhere. The system includes a built-in GPS that your loved ones and monitoring agents can use to keep track of your location.
SOS Smartwatch: The newest addition to Bay Alarm's lineup is its mobile smartwatch — perfect for users who want a discreet medical alert. The smartwatch features the same location tracking and monitoring features as the GPS Help Button, but it cannot be paired with fall detection.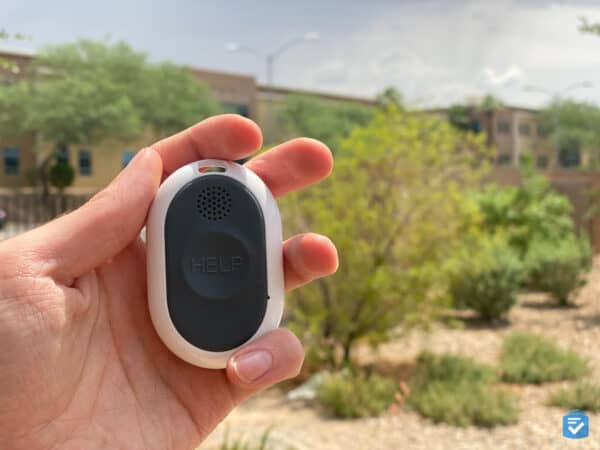 If you're looking for protection both in and out of your home, you may want to consider one of Bay Alarm's three bundled systems: the In-Home + GPS package, In-Home + Smartwatch package, and In-Home + In-Car. These bundles combine an in-home cellular system with one of their mobile units. In addition to providing protection both in and out of the home, these bundles cost less than purchasing each system separately.
FYI: Bay Alarm Medical offers a wide range of systems. To learn more about the plethora of devices that can keep you safe in your home, take a look at my guide to medical alert devices.
Using My Bay Alarm System
After my Bay Alarm GPS Help Button arrived in the mail, I opened the package and found the following:
1 GPS help button
1 charging cradle
1 instruction manual
1 fall-detection pendant
Installation
To install my Bay Alarm mobile system, I simply had to plug in the charging cradle, place my help button on it, and wait until the device was charged. I then pressed the help button to place my first emergency call, and I was connected with a monitoring agent who confirmed that my system was ready to use.
Bay Alarm Performance
To test my GPS Help Button, I placed many emergency calls from around my house. Each time I pressed my help button, I received a prompt response from one of Bay Alarm's monitoring agents. I was very pleased with the volume of my device's speakerphone; I was able to hear and communicate with the monitoring agents loudly and clearly.
Since the GPS Help Button can be taken on the go, I took it for a walk around town. No matter where I went, the device was able to make calls using its cellular connection. I was also able to use Bay Alarm's smartphone app to check my device's location. Each time I placed a call, my location was marked on the app. I could see this feature coming in handy for loved ones who live nearby.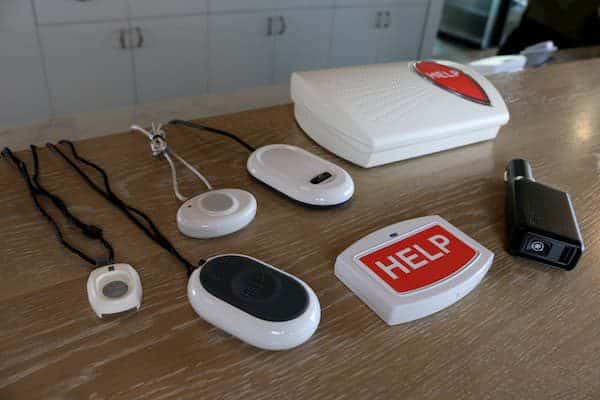 Finally, I tested my Bay Alarm fall detection pendant. It accurately detected each of my simulated falls and automatically called the monitoring center. The device placed some calls by mistake (when I dropped the device, for example), but the false alarms were easily defused by letting the monitoring agent know I was all right and didn't need assistance.
I was very impressed with how the GPS Help Button system functioned. My calls were answered in an average of 17 seconds, and I found that no matter where I went — from downtown to the park — my calls transmitted properly. The device's battery also lasted for nearly three days, which is pretty impressive considering how heavily I was using it.
Did You Know: Bay Alarm isn't the only company to offer a system with location tracking. To learn more, read my guide to medical alerts with GPS.
Bay Alarm Medical Pricing
As is standard with medical alerts, Bay Alarm Medical does not require you to purchase most of its systems. Instead, you lease them from the company and pay a monthly fee, which includes the equipment rental and the professional monitoring. Bay Alarm's mobile systems — the SOS Smartwatch and GPS Help Button — do require you to purchase the equipment.
Bay Alarm Medical does not require a long-term contract. Even after the 30-day trial period, you may return your equipment and cancel your subscription without incurring any extra fees.
FYI: To learn more about Bay Alarm Medical's many options, take a look at the Bay Alarm costs page.
Final Thoughts on Bay Alarm Medical
I would definitely recommend Bay Alarm Medical both for people who are active and people who stay closer to home. With both in-home and mobile options, Bay Alarm Medical has a device for any lifestyle and budget. Bay Alarm Medical is one of the best medical alert systems.
I'd recommend Bay Alarm Medical if you want:
Affordable in-home systems: With devices starting at only $24.95 per month, Bay Alarm is one of the most affordable medical alert systems.
A discreet smartwatch: For those who want a more discreet medical alert, Bay Alarm offers one of the best medical alert watches.
Spouse monitoring: You can purchase extra wearable help buttons for a one-time charge of $35, making Bay Alarm a great medical alert for couples.
Month-to-month contracts: Companies like Life Alert require you to lock into three-year contracts that you can only exit through death or transition to a care facility. Bay Alarm Medical, however, allows you to pay as you go. To learn more, read my guide to Life Alert costs.
I wouldn't recommend it if you want:
Detailed caregiver tracking: The Bay Alarm app was helpful with managing my account and tracking my location, but it doesn't offer activity monitoring or direct contact with loved ones like the systems from Aloe Care Health.
Voice commands: While Bay Alarm does offer voice-activated wall buttons, they don't offer the same array as a bonafide voice-activated medical alert. Read our CVS Symphony review to learn about a great device like this.
Bay Alarm Medical Frequently Asked Questions