| | |
| --- | --- |
| Time Spent Testing | 168 Hours |
| Starting Price | $29.95 per month |
| Contract Minimum | 1 Month |
| Average Response Time | 8 Seconds |
| Customer Service Response Time | 10 Seconds |
With a wide range of technology, Medical Guardian offers protection for nearly any kind of user, from active adults to people who spend most of their time at home. Here I'll look at the most affordable of its several product offerings: the Classic Guardian. I'll highlight some pros and cons of the company, test its service and support, and take a broader look at the company as a whole.
Medical Guardian Video Review
If you prefer watching instead of reading, check out my Medical Guardian video review. Otherwise, keep reading for all the important information I gleaned from testing the Classic Guardian system.
Medical Guardian Pros and Cons
If you just want a high-level chat about whether Medical Guardian is good, I've got you covered. Here are a few quick things I liked and didn't like about the Classic Guardian system.
Medical Guardian Pros
Equipment for all needs: Boasting five medical alert systems — including in-home, mobile, and even a smartwatch — Medical Guardian can suit all types of people.
Wide detection range: Medical Guardian's Classic Guardian system has one of the largest detection ranges on the market. The activation button can be 1,300 feet away from the base station and still communicate an emergency. The system can cover not only the inside of a home, but also gardens and other nearby outdoor spaces.
Excellent monitoring and support: Medical Guardian has 100 percent U.S.-based, 24/7 professional monitoring, which is responsive and reliable when you need it most. It also has no cancellation fees and prorated refunds for customers who haven't used the service for an extended time.
Two button options: Instead of offering only a medical alert bracelet or pendant, Medical Guardian allows you to choose one or the other, with the option to add additional sensors. All Medical Guardian help buttons are waterproof, which means you can wear them in the shower.
Power outage backup: Medical Guardian base units feature a 32-hour backup battery, which is a great fail-safe in an emergency during a storm or other power issue.
Medical Guardian Cons
Pricey add-ons: Medical Guardian offers an array of add-ons for its systems, including lockboxes, wall buttons, and additional pendants, but they all require additional monthly charges.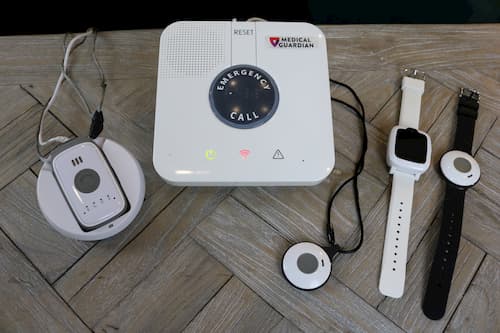 Pro Tip: New to the ins and outs of medical alert systems? Read my guide to medical alert devices to learn more.
Medical Guardian Systems Overview
Medical Guardian has five distinct medical alert systems, each geared toward different customer types. Not only does the company offer the affordable, stripped-down Classic Guardian system, but it also has systems to accommodate mobile users who want to carry their alert system with them on walks or errands, as well as alerts built into smartwatches.
Classic Guardian: The Classic Guardian is Medical Guardian's most affordable and classically styled medical alert system. The base unit connects to your home's landline and offers two-way communication between you and the emergency response operator. The pendant has an impressive 1,300-foot range, and the system's 32-hour backup battery is a nice feature.
Home 2.0: The Home 2.0 is similar to the Classic Guardian, except it runs on AT&T's cellular network. The base unit features an LED display screen and a 30-hour backup battery. The cellular connectivity is nice, but the pendant's range is only 600 feet.
MGMove Smartwatch: The MGMove smartwatch (formerly Freedom Guardian) is a medical alert watch with many of the same features other smartwatches have, such as SMS text messaging, schedules, and weather forecasts — but it has the added bonus of a medical alert system. This device also features GPS tracking and Wi-Fi connectivity.
Mobile 2.0: The Mobile 2.0 is similar to the Home Guardian, except the base unit is portable so you can take it with you on walks or extend your system's range as you see fit. The pendant can activate the base unit from up to 350 feet away.
Mini Guardian: Medical Guardian's newest alert, the Mini Guardian, is the company's most affordable all-in-one mobile solution. Designed with discretion in mind, Mini Guardian is half the width of traditional devices. It's only slightly taller than a matchbox and less than half the weight of one, coming in at a mere 1.3 ounces. Despite its small stature, this sleek cellular system boasts a five-day battery, water resistance, three color choices, two-way talk, and built-in GPS and WiFi tracking that can pinpoint your exact location during an emergency.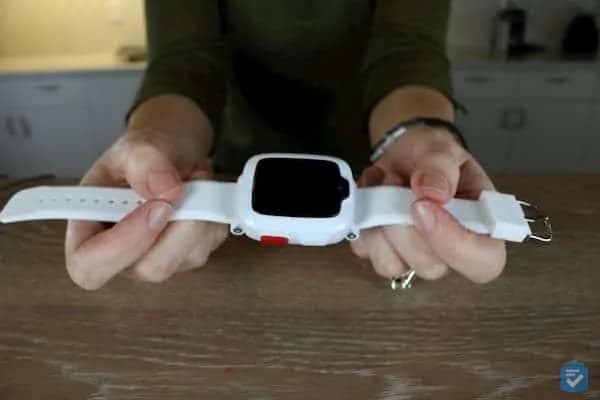 Using My Medical Guardian System
Since the Classic Guardian is one of the more basic models in the medical alert market, there isn't a whole lot to the packaging, which helped keep things simple. When the unit arrived, it included:
1 base unit
1 power cable
1 phone cable
1 help button
1 fall-detection pendant
1 instruction manual
One thing that struck me immediately with the Classic Guardian is how sleek the hardware is. It's often easy to tell when a medical alert company hasn't updated its hardware design for a while, because the units may be oversized or feel outdated aesthetically. That Medical Guardian has newly updated hardware says a lot about its commitment to growth and innovation, which gives me confidence as a customer.
The base unit has a large, easily pressed emergency call button on the top, as well as three indicator lights representing power, phone-line connection strength, and malfunction. These lights are helpful to stay up to date on the device's functions, and to make sure it's operating properly.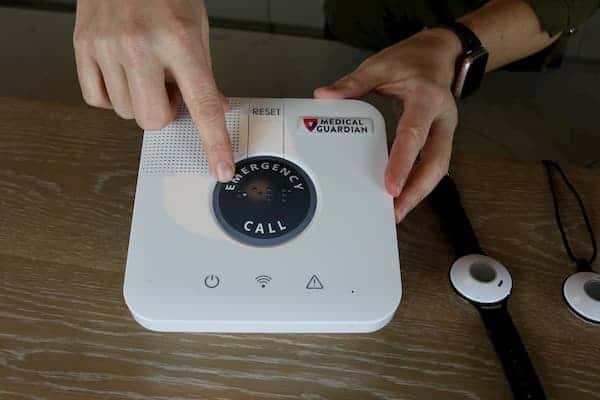 Installation
The installation and setup process for the Classic Guardian was straightforward and intuitive. The first step was connecting the base station to a phone line. I then plugged in the base station and plugged my landline phone into the back of the base station, which was nice since it only required one wall port. The next step was powering on the device; I just needed to plug it into the wall using the included adapter.
Once the base station was powered on and connected to the phone line, I was instructed to call a phone number that would put the unit in test mode. Once in test mode, I pressed the emergency call button on the base unit and received a message stating that the device was functioning properly.
Testing Medical Guardian
The Classic Guardian is an extremely straightforward device, and I was also impressed with its reliability and functionality. To test it, I first pressed the main emergency call button. After an emergency alarm sounded (which informs anyone nearby that you may need help), I was put in contact with a Medical Guardian operator. The operator I spoke to was calm and friendly, and helped assess my situation to determine whether I needed emergency services.
I also tested the device by pressing the emergency call button on the pendant. Once activated, the base unit performed the same function: sound the alarm, call the operator. I tested the range of the two-way communication by standing in the next room, away from the device. The operator was still able to hear me clearly. It's reassuring to know that if the operator wasn't able to hear me, emergency services would be contacted after a period of no response.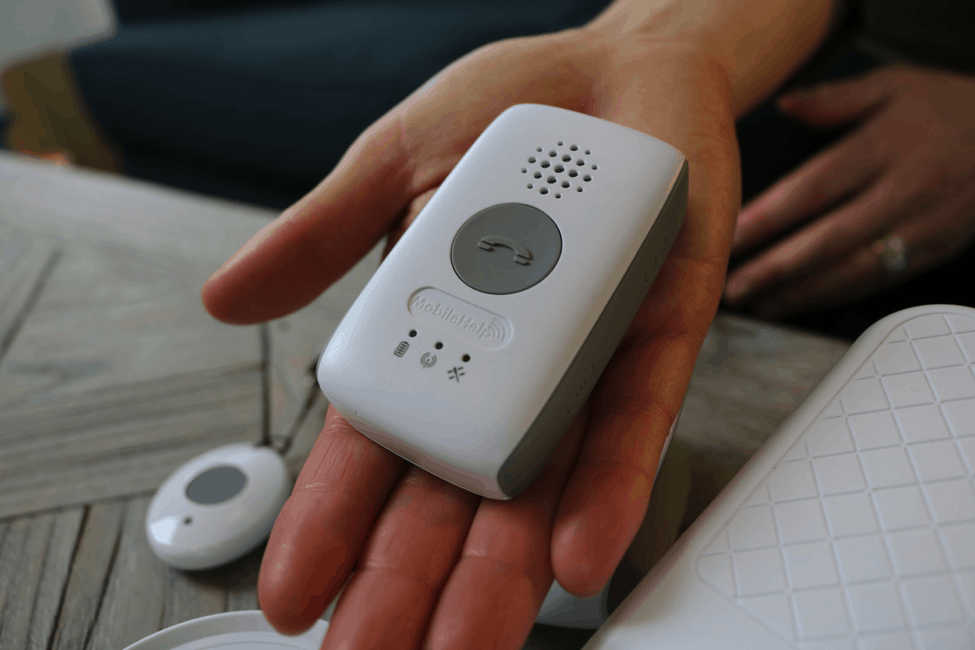 The time between activating the unit and being connected to an operator was about a minute, which is about standard. It can feel like an eternity, though, especially when you factor in that the average response time for an ambulance is about eight to 15 minutes.
The fall detection on my system was also highly accurate. During each of my simulated falls, my pendant was able to detect a drop and contact the monitoring center without my pressing a button. I did not experience any false alarms, but a mistaken call would be easy to defuse. All I'd have to do is communicate the error to the response agent.
MyGuardian App and Portal
Available on both smartphones and computers, the MyGuardian App allowed me to keep track of monthly billing and emergency contacts. For example, using this platform, I was able to add contacts who would receive notifications whenever I placed an emergency call with my system.
Additionally, if you have either the Mobile 2.0 or Mini Guardian systems, you can keep tabs on a system's location, battery life, and connection.
Medical Guardian Pricing
My Classic Guardian system with fall detection costs $39.95 per month, which is a bit higher than average for an in-home system. Medical Guardian offers discounts when you pay for your system annually as opposed to monthly.
With so many systems and add-ons, the price of your Medical Guardian system will likely vary. To learn more about Medical Guardian's many devices and their prices, take a look at Medical Guardian costs page.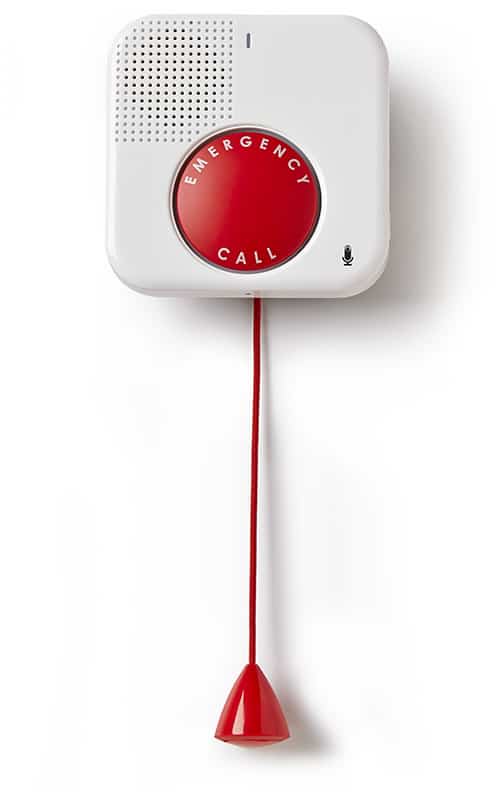 Final Thoughts on Medical Guardian
There is a reason I chose Medical Guardian as one of the best medical alerts. The company offers many unique systems for every lifestyle, from homebound users to older adults who travel and go outside every day. Medical Guardian is the peak of what a medical alert system can be. The Classic Guardian is a simple, affordable system that does the basics flawlessly. I was blown away by its 1,300-foot range, as well as its easy setup and clear two-way communication.
I'd recommend Medical Guardian if you want:
An affordable landline system: Starting at $29.95 per month, the Classic Guardian is a well-built, reliable system that communicates with professional monitoring via an existing landline connection.
An all-in-one mobile system: Unlike most mobile medical alert systems, which require additional buttons for fall detection, the Active Guardian has everything in one compact device so you won't have to lug around extra help buttons. It's one of my favorite cellular medical alerts.
Reliable monitoring: Medical Guardian's monitoring centers are UL-listed and have received a five-diamond score from TMA (The Monitoring Association). Its systems come with an impressive pedigree, and it was apparent in each of my test calls that I was dealing with a team of professionals.
Additional buttons: From additional help buttons to voice-activated medical alerts, Medical Guardian offers a full range of accessories so you can tailor your system to your specific needs.
Month-to-month contracts: While Medical Guardian offers discounts for annual subscriptions, they only require monthly commitments. Considering other providers like Life Alert require three-year service agreements, this is definitely a benefit. To learn more about Life Alert, read my Life Alert review and guide to Life Alert costs.
I wouldn't recommend Medical Guardian if you want:
Detailed caregiver tracking: Medical Guardian offers its app only on mobile systems. If you want an in-home system that can track your activity and notify your caregiver network of emergency calls, I'd recommend reading my Aloe Care Health review.
No monthly fees: Medical Guardian costs a minimum of $29.95 per month. While this is about average for in-home medical alerts, some medical alerts require no monthly charge. To learn more, read our guide to medical alerts with no monthly fee.
Medical Guardian Medical Alert System Frequently Asked Questions