For many seniors, a walk-in tub is a vital mobility aid that makes bath time a lot easier and safer. Finding the right walk-in tub can be challenging – naturally, you want to find the very best option for the older adult in your life. We've made the choice easier by researching the best walk-in tubs on the market today and picking our favorites.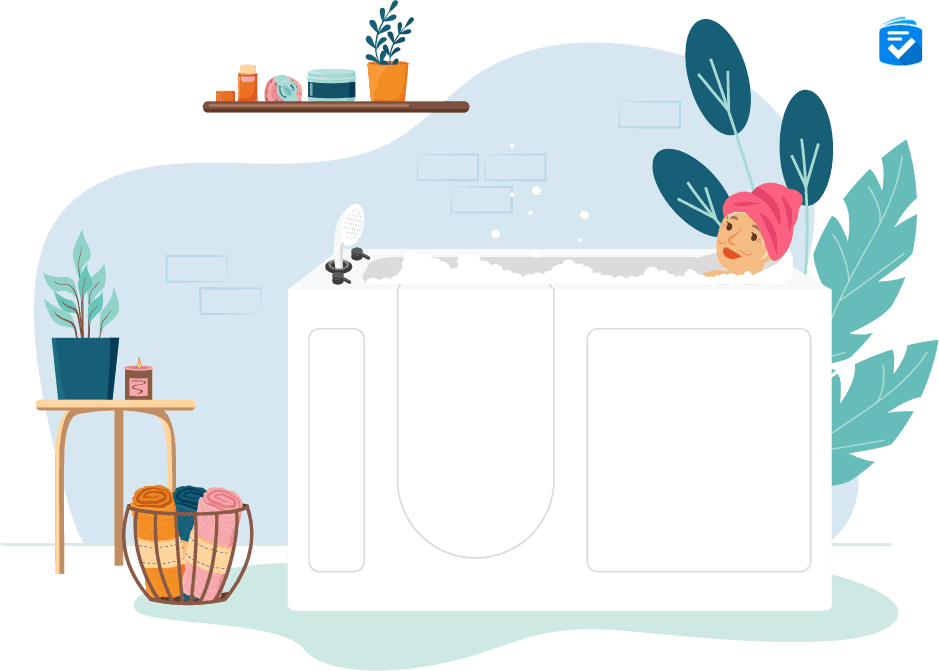 FYI: In case of falls in the bathroom, it's always good to have a medical alert system. To learn more, read our guide to the best medical alert systems.
Best Walk-In Tubs for Seniors in 2022
To make it easier, we've looked at walk-in tub options from top walk-in tub retailers.
Safe Step : Best Therapeutic Options
American Standard : Best Range of Walk-In Tubs
Kohler : Best Luxury Walk-In Tubs
Ella's Bubbles : Most Affordable Walk-In Tubs
Home Depot : Best In-Store Retailer
Amazon Walk-In Tubs : Best DIY Selection
1. Safe Step – Best Therapeutic Options

What We Like Most:
American made
Lifetime warranty
A+ rating with the Better Business Bureau
Overview
Safe Step Tub is a specialist walk-in tub manufacturer. Their tubs are designed with the needs of seniors in mind, with comfort and ease of use being paramount.
Our favorite model: All Safe Step tubs are hydro jet models that offer water massage therapy as a standard feature. Our personal favorite, however, would have to be their hybrid tub, which offers a combination of a tub and shower, making it easy for users to stand or sit while bathing.
Features: Safe Step tubs are packed with features including water therapy, air therapy, light therapy, and aromatherapy. They are also fitted with a personal bidet for hygiene. They are built to last with an aluminum frame, and come with a full complement of safety features including (but not limited to) anti-slip surfaces, grab bars, anti-scald showerheads, and mold-resistant coating.
Cost: Safe Step doesn't list prices on their website, but you can submit a form for a free, no-obligation estimate based on your needs and situation.
Pros
Lifetime warranty on parts and labor
Self-cleaning tubs with ozone cleaning
Hydrotherapy massage and chromotherapy are standard features
Cons
Prices not listed on website, call for a quote
Safe Step tubs are made in Tenessee and are fully customizable to meet your bathroom layout and personal needs. Many features that are deemed extras for other manufacturers come standard on Safe Step tubs.
2. American Standard – Best Range of Walk-In Tubs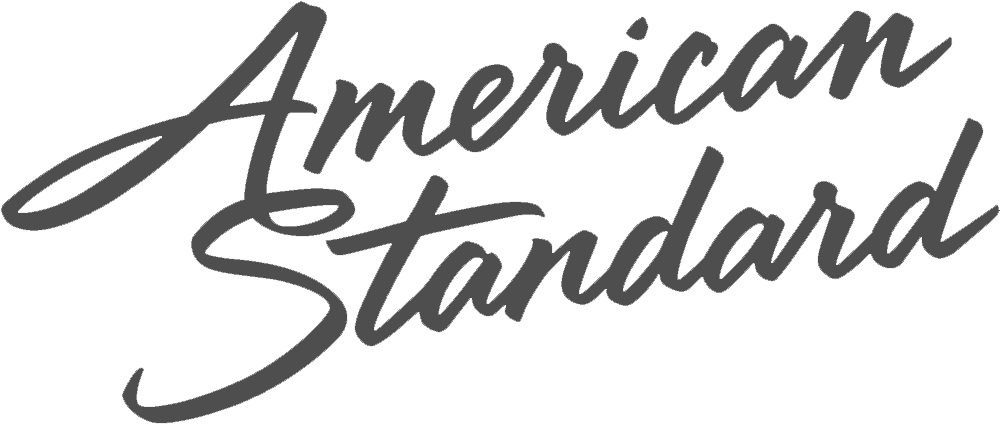 What We Like Most:
Free installation estimates
American Standard installs, no outsourcing
Lifetime warranty (includes tub, installation, and labor)
Hydrotherapy, chromotherapy, and aromatherapy available
Overview
American Standard is a leader in the walk-in tub industry, and they have a vast network of walk-in tub installers across the US and Canada.  Their walk-in tubs are proudly made in Dallas, Texas.
Our favorite model: American Standard offers a wide variety of walk-in tubs from basic soaker models to high-end, fast-draining whirlpool massage types. They also make tubs with larger doorways, as well as ones with outward-opening doors.
Features: Features vary based on the cost, size, and amenities of the walk-in tubs offered. Options like right and left-sided doors to massage systems and in-line heaters, allow you to pick the right tub for your layout and needs. As a tub should be as enjoyable as it is safe, some tubs also have heated seats, chromotherapy, quick-fill and quick-draining (2 min or less drain time), and aromatherapy for the ultimate relaxing experience.
Cost: From $2,300 – $11,500
Warranty: Lifetime warranty, including installation, labor, and walk-in-tub.
Pros
Lifetime warranty
No outsourcing for installation
Wide range of sizes, styles and door configurations (incl. outward swinging doors) to choose from
Made in the U.S.A.
Cons
Some customers complain of choosing models that were too small.
American Standard has been a household brand for over 14 decades.  Their walk-in tubs have unique features like outward-opening doors, heated seats, quick filling tubs, and built-in grab bars. American Standard has an Ease-of-Use commendation from the Arthritis Foundation.
3. Kohler – Best Luxury Walk-In Tubs

What We Like Most:
Professional installation included
Lifetime Limited Warranty included
Designed and assembled in the U.S.A.
Hydrotherapy jets, heated backrest, multifunction handshower, extra-wide door and ultra-low 3″ step
Overview
Kohler Walk-In Bath offers walk-in tubs loaded with features like extra-wide doors, handrails, Hydrotherapy, and BubbleMassage Jets to create a spa-like experience. The low 3″ step is the lowest in the industry with the focus of keeping users safe.
Our favorite model: Kohler Walk-In Bath offers standard walk-in tubs as well as its unique "Belay™" walk-in bath models. The two models offer options depending on the experience you are looking for. The 'Soaking' version doesn't have jets and is akin to a more conventional model. It has a wider door and seat and is ideal for bariatric users. The 'Hydrotherapy' version comes with full air/water jets and is ideal for users who are looking for a spa-like experience while ensuring safe bathing.
Features: Low step in, handrails, non-slip surfaces, wide doors, easy-to-use control panels, whirlpool jets, heated surfaces, and fast-draining tubs are some of the most popular features.
Cost: $4,000 – $9,500
Warranty: Lifetime Limited Warranty included
Pros
Commitment to safety
Fast fill and drain system
Extra wide door to accomodate all sizes
Cons
Not available in Alaska, Hawaii, New Mexico, North Dakota, South Dakota, Northern/Central Mississippi, Northern/Central Louisiana, El Paso TX, New York City NY
Kohler's range includes walk-in bathtubs designed to make senior life easier and facilitate aging in place. Kohler is dedicated to gracious living and adding safety and comfort features to ensure its products fit comfortably into any existing space.
4. Ella's Bubbles – Most Affordable Luxury Walk-In Tubs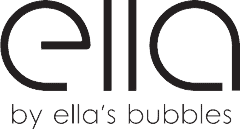 What We Like Most:
Made in the U.S.
Wide range of walk-in tub models
Streamlined installation process
Luxury and therapeutic features
Overview
Available both through big-box stores and directly from Ella's Bubbles, Ella walk-in tubs combine safety features with advanced luxury technology, making them a great option for higher-end tubs. Additionally, by requesting a free quote from Ella's Bubbles, you can get a free in-home consultation followed by a one-day installation.
Our favorite model: While Ella's Bubbles offers dozens of different models of walk-in tubs, our favorite would have to be their Ultimate series of tubs. With stainless steel doors and a 21-inch seat, it can hold people of all sizes safely and comfortably. It also features ample air and water jets for a pleasant bathing experience.
Features: Ella's Bubbles tubs are highly customizable, and features will vary from one tub to another. That said, some features you can expect to find include quick draining, rapid filling, foot massages, tempered glass doors, anti-slip floors, heated surfaces, shower heads, and self-cleaning technology. Several of their models also have support for people who use wheelchairs.
Cost: $2,400-$4,000
Warranty: On all of their tubs, Ella's Bubbles offers a limited lifetime warranty on both the tub and any of its parts. The only caveat is this warranty is non-transferable to other customers or different homes (in the event the tub is moved).
Pros
Simple and free quoting process
Free in-home consultation
One-day installation on most models
Available in-store and online
Advanced luxury features
Self-cleaning capabilities
Support for people in wheelchairs
Cons
Potentially high costs for luxury features
5. Home Depot – Best In-Store Retailer
What We Like Most:
Basic walk-in tubs for as low as $2,000
Install yourself or with your own contractors
Large selection of top brands to choose from
Free in-store pick-up or low cost curbside delivery
Overview
Home Depot stocks a range of walk-in tubs with different features. All models are designed to fit easily into a standard bathroom with few modifications.
Our favorite model: Home Depot features known brands like Kohler, American Standard, Universal Tubs, and more. One interesting model is the Kohler tub featured on the Home Depot website. Instead of opening like a standard walk-in tub, Kohler's Elevance model features a wall that is lifted by hand after the user has settled in the tub and sat down. Their specifications state that it takes less than 5 lbs of force to lift the wall. This Kohler model is a nice option for wheelchair users who can slide from the chair to the tub with ease or for those with limited mobility.
Features: Each bath comes with an extra-wide opening and a seat height designed for added accessibility. Grab bars and dual water-tight seals also come as standard. Some models feature a water jet-based bubble massage and an added ledge to keep the massage controllers close at hand.
Cost: From $2,000 – $10,171.54
Warranty: While Home Depot offers a warranty on their installation and labor, warranties on the tub and its parts will vary by the brand.
Pros
Big box store featuring a variety of brands
Install yourself or have professionally installed
Narrow down search by size, cost, type, drain location and more
Cons
While many well-known brands are offered, does not specialize in walk-in tubs, no personalized consultation
Home Depot does not manufacture it's own walk-in tubs, but it carries an extensive selection of walk-in tubs from the top manufacturers like American Standard, Univeral Tubs, Ella, and more. Walk-in tubs range from the most basic models to those with all the latest features.
6. Amazon Walk-In Tubs – Best DIY Selection
What We Like Most:
Tubs for as low as $1500
Wide range of accessories
Basic models to wheelchair accessible units
Overview
Amazon needs no introduction! The worldwide online retail giant stocks everything you could need – including walk-in tubs.
Our favorite model: We found every kind of tub, from the most basic soakers to wheelchair-accessible and even heated and massage-capable models. However, our favorite model would have to be the Ella Companion walk-in bathtub, which is large enough to fit two people at the same time. This would be a great option for couples.
Keep in mind; you would need to set up your own installers and contractors if you order a walk-in tub from Amazon.
Features: There is a huge range of tubs available with many features, from standard safety features such as grab bars and non-slip coating to comfort features such as heated and molded seats, water jet or whirlpool massage, and even micro-bubbles.
Cost: From just $1500 or so for a basic model all the way through to $5000 plus for advanced models.
Pros
Top retailers represented
Perfect for do-it-yourself projects
Wide range of models to choose from
Cons
Product only, no installation, would need to find your own labor
Buying a walk-in tub from Amazon is a good option for those who are looking to install themselves or can hire a professional installer. Amazon makes it easy to search for the type of tub you are looking for and may offer significant savings for DIY-ers.
What Is the Purpose of a Walk-In Tub?
A walk-in tub makes bath time much easier and safer for anyone with mobility issues, including seniors. Climbing in and out of a standard bathtub can be risky for anyone who suffers from balance problems, joint problems, stiffness, or weakness. It's all too easy to lose balance and fall, which could result in bruises or even broken bones. A walk-in tub is much easier and safer to get into.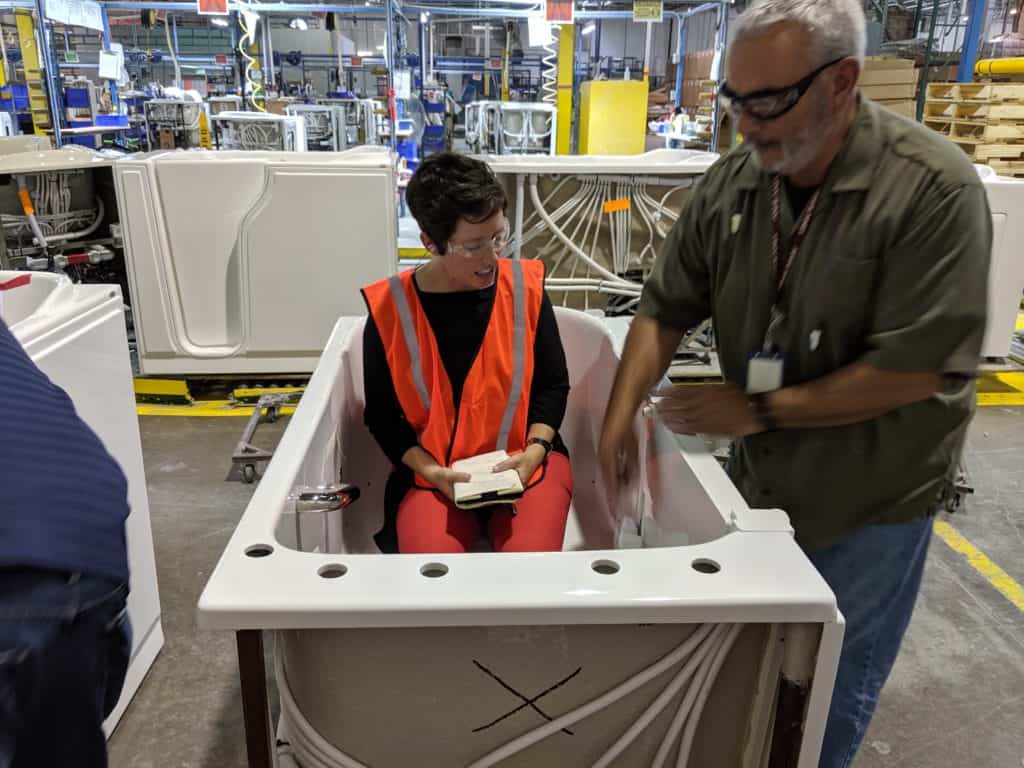 FYI: While Medicare won't pay for some of the costs of a walk-in tub, there are other forms of financial assistance available. To learn more, check out my guide to paying for a walk-in tub.
What Safety Features Are Important In a Walk-In Tub?
A good walk-in tub should have the following safety features, so be sure to check for them.
Anti-scald systems: Anti-scald showerheads regulate the temperature of the water coming out of the showerhead or faucet, even if someone turns a tap on or switches on a water-using appliance elsewhere in the house. This is vital to protect delicate elderly skin from burns.
Anti-slip surfaces: Slips and falls are a risk for elderly people. Walk-in tubs should come with anti-slip floors and seats as standards, to help reduce the risk of a fall.
Quick drain system: Look for a quick-release drain feature that lets the bath user, or a caregiver or EMT, hit a button and drain the bath rapidly to prevent accidental immersion. Quick drain systems also make waiting for the bath to drain more comfortable, as users don't have to sit for a long time before opening the door to leave.
Grab bars: Many seniors are a little unsteady, especially when entering or exiting a tub or moving from a sitting to standing position. Check for ample safety bars for users to grab.
The above-listed safety features are a must. We also recommend you look out for:
Low threshold: Many users who choose a walk-in tub do so because climbing into a standard tub is hard for them. Look for a low threshold to make sure the walk-in tub is easy to enter.
Extra-wide door: A wider door makes it easier to get in and out of the tub, especially for larger users, or those who suffer from stiffness or pain in their hips.
Self-cleaning systems: no one wants a build-up of mold or harmful bacteria in the water lines! Check that the system you choose is self-cleaning to keep water lines flushed and hygienic.
Leak-proof door seals: Any good tub should have a leak-proof door seal with a lifetime guarantee to prevent bathroom flooding.
Lifetime guarantee: A walk-in tub is a considerable investment. Be sure when purchasing yours that you're guaranteed for life in case of any problems.
Easy to use buttons: Check out the controls on your tub of choice and make sure they're easy to press, even for arthritic hands.
What Are the Different Types of Walk-In Tubs?
There are several kinds of walk-in tubs to suit different budgets and needs. Here are the most common:
Inward swinging door: These are the most common kind of walk-in tub for home use as they tend to be both the cheapest, and the classiest to look at. For general use for an elderly person with no special requirements (such as needing an extra-large or wheelchair-accessible tub), these are a good choice.
Outward swinging door: While not as common as an inward swinging door, an outward swinging door is safer and easier for people with restricted mobility.
Bariatric tubs: Bariatric walk-in tubs are made for those who weigh 300 pounds or more. They are very similar to inward swinging tubs and have all the same safety features, but are larger and sturdier with a wider entrance.
Wheelchair-accessible tubs: Also known as slide-in tubs, these walk-ins have a wider entrance and no step to climb over, making them ideal for wheelchair users who can be helped from their chair and into the seat. They are larger and more expensive and take up more space due to their outward opening door, but for wheelchair users, they make bath time much simpler.
How To Choose a Walk-In Tub
With so many options to choose from, deciding on a walk-in tub can seem challenging! Start by taking note of your loved one's specific needs and conditions. Do they need a wheelchair-accessible or bariatric tub? Which safety features are a must for them?
Once you know the size and shape of the tub you need, you can consider which extra features, such as massage or hydrotherapy, would be good for your loved one to have. Then it's simply a case of shopping around and finding which tubs tick off all your needs and still fit your budget.
With so many choices on the market, you are sure to find the best walk-in tub for the senior in your life. You should also read our guide on buying a walk-in tub to help kickstart your process.