According to the National Council on Aging, one in four adults over 65 falls each year. A majority of these falls occur in the bathroom, due to both slippery floors and the often-cumbersome step over the threshold of a combination bathtub-shower. Naturally, there are ways to mitigate injury following a fall, including getting assistance through a medical alert system. However, even better than addressing a fall is preventing one altogether.
You can prevent falls by installing grab bars, non-slip mats, and ventilation systems that reduce surface moisture in the bathroom. Another valuable measure is through the installation of a walk-in bathtub.
Planning To Age in Place: From home modifications to home care, there's a variety of ways to age in place safely. To help assess your needs, try using our free care planning tool.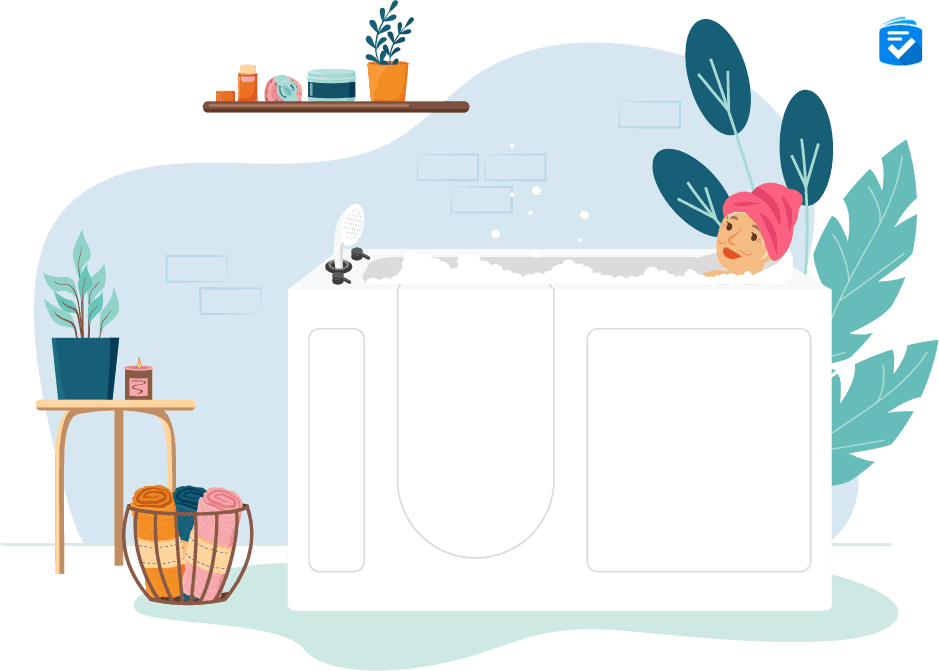 What is a Walk-In Bathtub?
A walk-in tub is a bathtub with a door and seat that allows users to bathe safely at home. With a low threshold entry, typically a few inches high, these products allow users to walk into their bathtub instead of navigating the high edge of a traditional bathtub.
Walk-in tubs are also unique because the molded seat enables bathers to enjoy a bath in an upright, seated position while submerged in water, a truly therapeutic soak.
These bathtubs have twice the depth of conventional bathtubs. Compared to regular tubs, where the user is commonly in a lying down position, walk-in tubs are key for anyone with limited mobility or who cannot get up easily from in a slippery tub.
FYI: Did you know that some medical alert systems have devices designed particularly for bathroom safety? Read my guide to the best medical alert systems to learn more.
Safety Features of a Walk-In Tub
Walk-in bathtubs come in a variety of shapes, sizes, and colors, not to mention the more advanced features of higher models. Still, there are some common safety features shared by most. Here is an overview:
Low Entry Threshold: Arguably, the most important feature of a walk-in tub is a low entry threshold that streamlines the process of entry and exit. Whereas traditional tubs require a high step to enter, walk-in bathtubs feature a door and a step that you'll hardly notice.
Non-Slip Floor: You're likely familiar with the non-slip mats that fit in any existing shower. Most walk-in tubs feature something similar. Built into the tub is a grooved flooring that prevents falls when a user stands up inside of the tub.
Heavy-Duty Door Seal: Unlike a traditional tub, which requires entry over its wall, a walk-in tub uses a gated door mechanism. Their seals, commonly made of rubber, prevent any water from leaking from the tub. What's more, many companies offer a lifetime warranty on this tub component.
Quick Drainage: While every walk-in tub manufacturer has a different name for their proprietary drain technology, almost all of them feature some sort of drain that works more quickly than those of traditional tubs. Since you can't open the door and exit your walk-in tub until the water has drained, this technology prevents you from sitting for too long upon completion of your bath.
Grab Bars: Like a cane or a walker, grab bars protect you by taking some of the weight and balance off your feet. Nearly all walk-in tubs have one, if not more, of these bars, which further ensures safe entry and exit.
Our Favorite Walk-In Tub Manufacturers
In addition to our rundown of this year's best walk-in tubs, we've also got some helpful guides on the most popular manufacturers:
American Standard Walk-In Tubs
Kohler Walk-In Tubs
Safe Step Walk-In Tubs
American Standard vs Kohler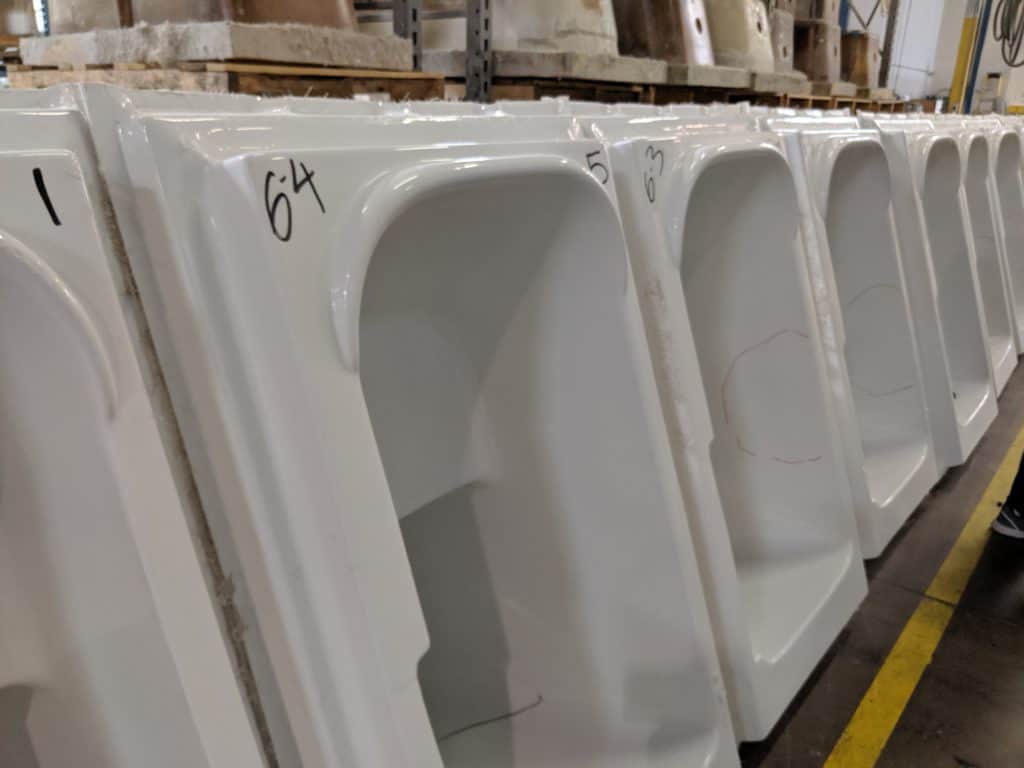 Walk-In Tub Sizes
Most walk-in bathtub companies have a wide selection of sizes and models to accommodate almost any installation application. From compact tubs, to larger bariatric versions, or wheelchair/handicap accessible models, providers make every effort to offer custom tubs based upon the user's specific needs.
Tubs can range from 26 inches wide to 35 inches wide. They can also range in measurement, from as short as 35 inches and as long as 60 inches. Specialty manufacturers even provide taller walk-in tubs up to 47 inches tall, compared to more standard models that are usually 38-40 inches high. Because every bathroom space is structured differently, and each user's size varies dramatically, finding a company that offers a variety of models is essential.
Additional Features of Walk-In Tubs
Leading companies include key safety features to ensure the safety of their customers. Anti-slip floors, safety drains, and grab bars are all common elements built into walk-in tubs. The door handle is easy to seal and watertight to eliminate any leakage.
Reputable companies should provide a lifetime warranty on the door, seal, and frame. Faucets usually have lever handles to help make it easier for those with arthritis to turn them on and off. These bathtubs are configured with an extendable showerhead wand so the bather can use the installed walk-in tub as a stand-up shower as well. This component is convenient for other family members who prefer a shower to a bath.
Your walk-in bathtub specialist should also discuss adding safety grab bars in other areas of your bathroom surrounding the tub itself. It is not uncommon to install a new ADA-compliant commode with nearby grab bars to facilitate getting up and down from the toilet as well.
Luxury Features of Walk-In Tubs
When we talk about walk-in tubs, it's tempting to focus solely on the safety features; however, this overlooks their impressive array of luxury options as well. Here is an overview of what you can find:
Handheld Showering Wand: These handy, removable showerheads make it a breeze to reach and rinse any part of your body, especially for those with limited mobility.
Massage Systems: Most walk-in tubs will have systems of either air or water jets that circulate water and massage your body. This also helps your bath maintain its heat level, almost like a hot tub.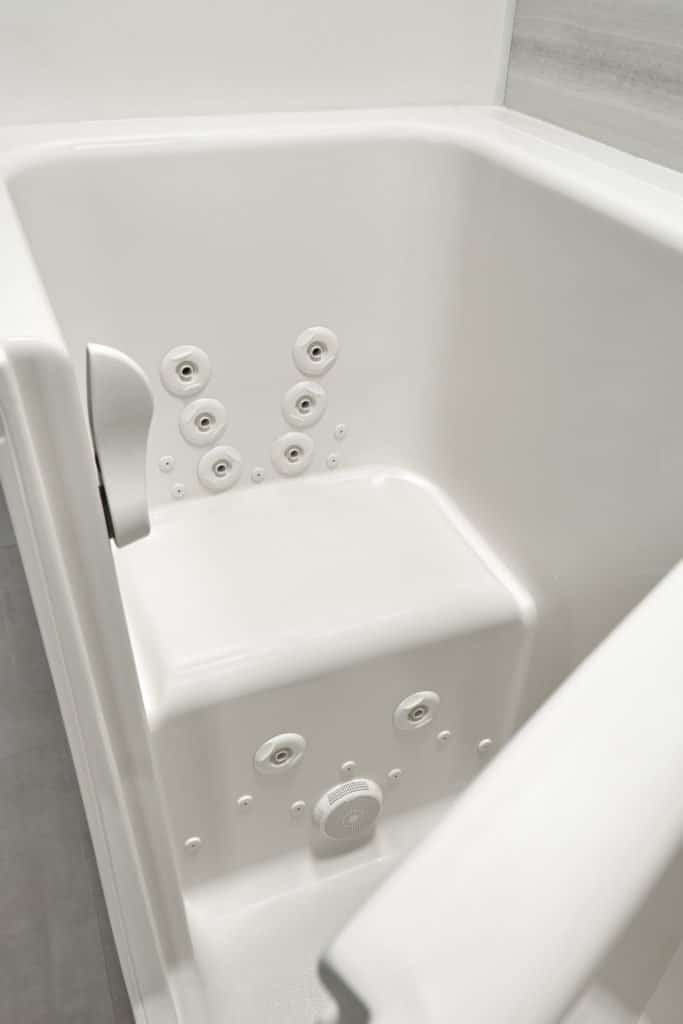 Chromotherapy: While this type of therapy might not have medical studies to back it up, it's undeniably soothing to soak in a tub as a series of lights transition through a series of relaxing colors.
Self-Cleaning: Through a series of filters or detergent mechanisms, many walk-in tubs are capable of cleaning themselves, a great feature for those who struggle with bending.
Push Button Controls: With so many different controls, it might seem daunting to manage all of them. Luckily, walk-in tubs feature intuitive dashboards located near the seat, ensuring that they're always within reach.
Heated Surfaces: Much like a heating pad, several walk-in tub models can provide additional heat in the neck, back, and seat areas. Combined with the water, these surfaces can melt away any tension or soreness.
Anti-Scald Technology: It happens to everyone––getting so excited for your bath that you hop in while the water is too hot. Thankfully, many walk-in tubs feature anti-scald technology, preventing the water temperature from exceeding custom levels.
Walk-In Tub Ease of Use
Most walk-in tub manufacturers, such as Kohler and American Standard, will come to your home for a free consultation. During this time, they'll assess both your spatial and safety concerns and ultimately provide you with some thoughtful options that suit your needs.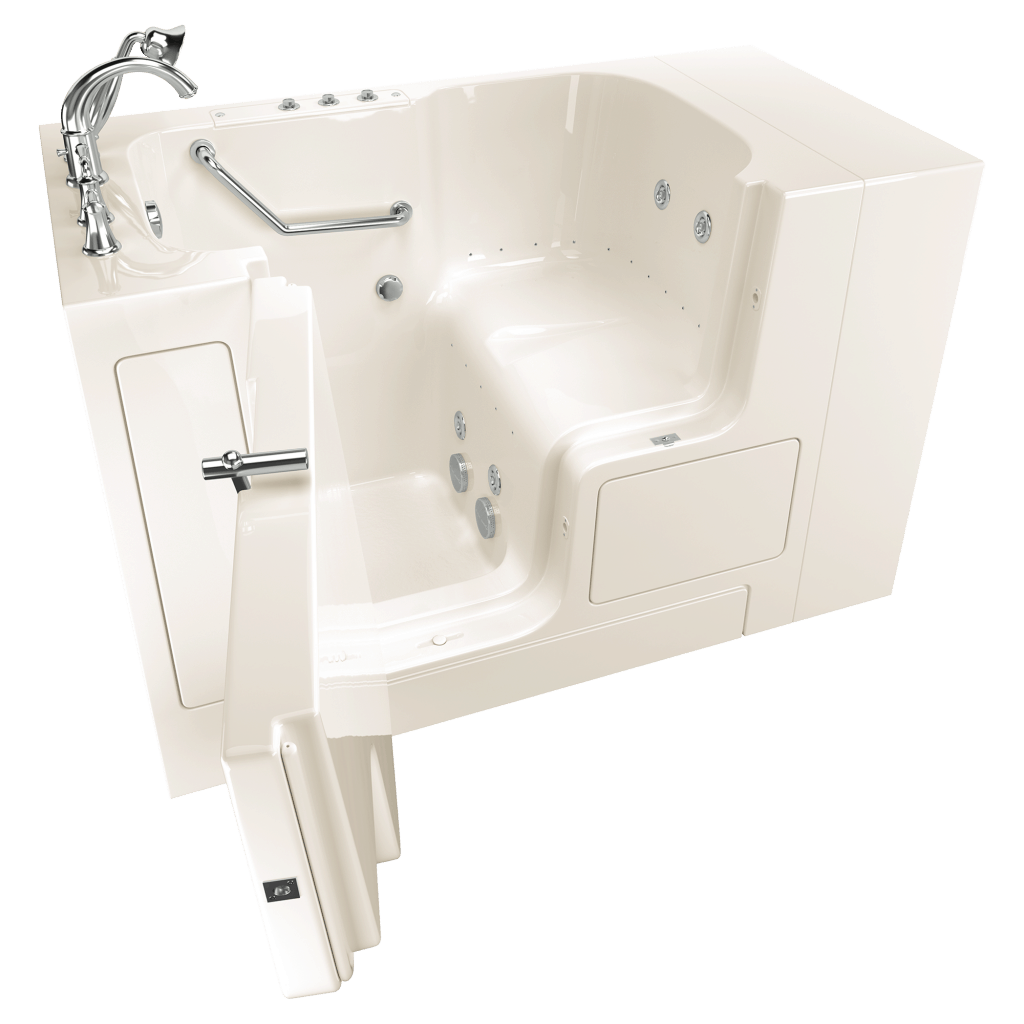 Before purchasing a tub, be sure to ask a few questions about its ease of use:
How big is the step up? Will your loved one be able to manage it?
How wide and high is the seat? Can you sit on it comfortably?
How easy to see and use are the controls? How about the faucet and showerhead? Are they suitable for arthritic hands?
Are Walk-In Tubs Affordable?
Unfortunately, there's no simple answer to this question, as the pricing of walk-in tubs has several important variables. First off, you'll need to consider your existing bathroom situation. Do you currently have a tub or shower? Will your installer need to handle its removal?
Additionally, the hardware itself for walk-in tubs can range in price from $3,000 to upwards of $10,000 for the most advanced models. Most manufacturers offer model units and allow you to add on additional features that suit your needs.
All of this is to say that walk-in tub pricing is a bit tricky. The best way to find out for sure is to schedule a free consultation with an installer. This is how you'll get an accurate pricing estimate.
FYI: To learn more about the cost of a walk-in tub, check out my walk-in tub pricing page.
How To Buy A Walk-In Bathtub
Because these tubs don't come standard in a typical home, families will need to explore a couple of different options. The first one is to reach out to a walk-in bathtub dealer who can order the appropriate tub and arrange for installation. The other option is to find a tub at Home Depot (or other big box stores) and hire someone separately to perform the installation.
Manufacturers such as Safe Step promise to complete installation in about one day. This is great news, as it allows you plenty of time to select a tub.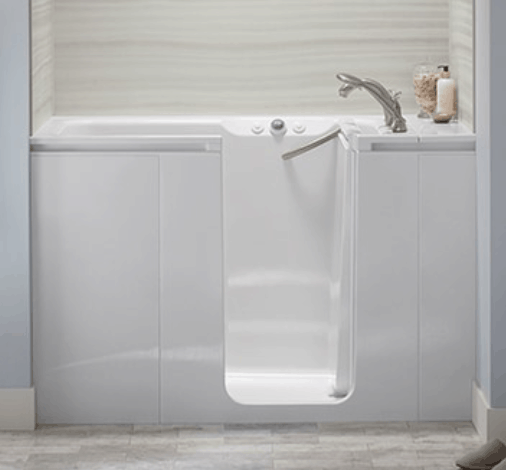 Using a Walk-In Tub
There are other considerations to make when considering walk-in tubs. First, you have to understand the overall experience of bathing in a walk-in tub. It's different than it is in a traditional bathtub. For example, in a walk-in bathtub, you must get in your tub, shut the door behind you, and then turn the water on so it rises to the desired depth and temperature.
Temperature Safety: Since you have to remain seated while a tub fills, most models have built-in anti-scald technology that prevents you from getting burned by the initial heat of the water.
Getting out involves the same drill but in reverse order. You have to wait for the tub to empty until you can get out of it. Because many of these tubs have fast-draining systems, you'll want to find out if your plumbing will accommodate these systems before ordering.
Types of Walk-In Bathtubs
While all walk-in bathtubs promise a safer, more luxurious bathing experience, they come in many shapes and sizes. These are the main types offered by most manufacturers.
Soaker Tubs
A soaker tub is a basic walk-in bathtub. It has no hydrotherapy jets and is generally less expensive than other models with additional features. This is considered an entry-level unit. A soaker tub comes with a leak-proof door, and usually includes a grab bar and a handheld shower accessory.
Hydrotherapy Tubs
A hydrotherapy tub includes a leak-proof door and some additional options that help with water circulation. These tubs come with water jets (and/or air jets) in order to agitate the water. It feels good, and it can help loosen up stiff joints and muscles.
Walk-In Showers
While the name might sound redundant, walk-in showers are a great option for those who prefer to bathe in a shower. Additionally, some manufacturers make walk-in showers with seats.
For a list of our favorite walk-in showers, check out my rundown of this year's best walk-in showers.
Bariatric Walk-In Tubs
A bariatric tub is a walk-in bathtub made for larger individuals. You can purchase a bariatric tub with minimal soaker features, or with all the bells and whistles like water jets and removable showerheads.
Wheelchair Accessible Tubs
The wheelchair-accessible walk-in tub usually has an outward opening door frame and allows for the easy transfer from a wheelchair to the tub. Wheelchair-accessible showers are also a great option.
Walk-In Tubs: The Bottom Line
There's a big difference between stepping into a traditional bathtub and a walk-in bathtub, especially for older adults or less mobile folks out there. While these furnishings certainly aren't cheap, there are many different pricing options available, and safety should always be considered first.
About 29 percent of older adults live alone. If you or a loved one counts yourself among this group, then a walk-in tub can be a great way to ensure safety as you continue to age in place.