A medical alert system is a protective device that sends a signal to emergency personnel when attention is required. Medical alert systems, also known as personal emergency response systems (PERS), are most commonly worn by older or disabled individuals who may need to summon help following a fall or other life-threatening occurrence.
This guide will tell you all you need to know about medical alert systems, including the types of devices, how they work, and how much they cost.
How Do Medical Alert Systems Work?
In their most basic form, medical alert systems provide a direct line of communication between a user and monitoring-center personnel. Monitoring-center agents can then contact appropriate help, such as neighbors, loved ones, and emergency responders. These lifesaving devices come in many shapes and sizes, but they all share a few standard features.
Help buttons: Help buttons allow you to send a distress call to the monitoring center. They typically come as pendants or wristbands, but many systems have additional buttons that can be mounted on walls or other surfaces. Most wearable help buttons are water-resistant and can be worn in the bathroom, a frequent site of falls.
Speakerphones: When you make a call, your system's speakerphone allows you to communicate with monitoring agents. The speakerphone on an in-home medical alert system is usually on the base unit, which is placed in a central location of your home. The speakerphone and help button on a mobile system are often combined into one wearable device.
Connection: Behind every medical alert system is the mechanism through which it sends distress calls. Most companies have systems that operate on either landline or cellular connections, but some new systems can place calls over Wi-Fi.
The value of medical alert systems lies in their simplicity. More than half of older adults own smartphones — which could be used to accomplish a similar function — but medical alert systems provide a more streamlined and efficient way to obtain help. Typing out a phone number can be difficult during a health emergency, especially for people with manual dexterity issues. Medical alert systems, however, require only one press of a button.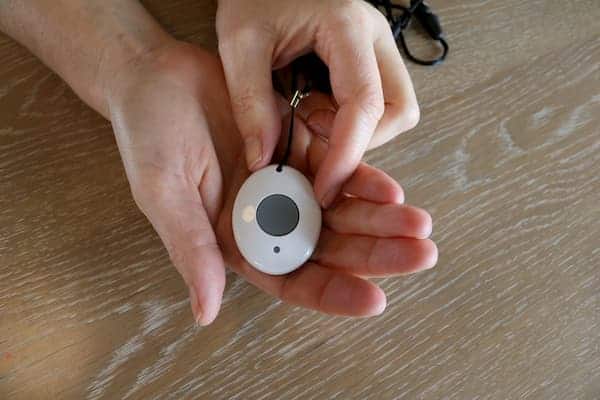 Types of Medical Alert Systems
Despite a plethora of medical alert systems and manufacturers, we can break down medical alert systems into a few main categories.
In-home medical alert systems protect users both in and around their homes. Through a combination of help buttons and a speakerphone-equipped base station, these systems allow you to connect quickly to monitoring agents. These systems generally are on the more affordable end of the spectrum.
Mobile medical alert systems protect users outside their homes. Using a cellular connection, these systems can place emergency calls just about anywhere with good reception. Mobile systems often are equipped with GPS technology, allowing a call-center agent to relay your location to emergency responders.
Medical alert smartwatches take all the functions of an on-the-go system and compress them into the discreet profile of a watch. Some added features include weather reporting, text messaging, and health metrics such as heart-rate monitors and step counters.
Bluetooth medical alert systems are relatively new technology. Through a wearable help button that pairs with your smartphone, Bluetooth medical alert systems allow you to quickly contact your caregivers and loved ones. These systems rarely include access to professional monitoring agents, but that also means you'll have no monthly fees.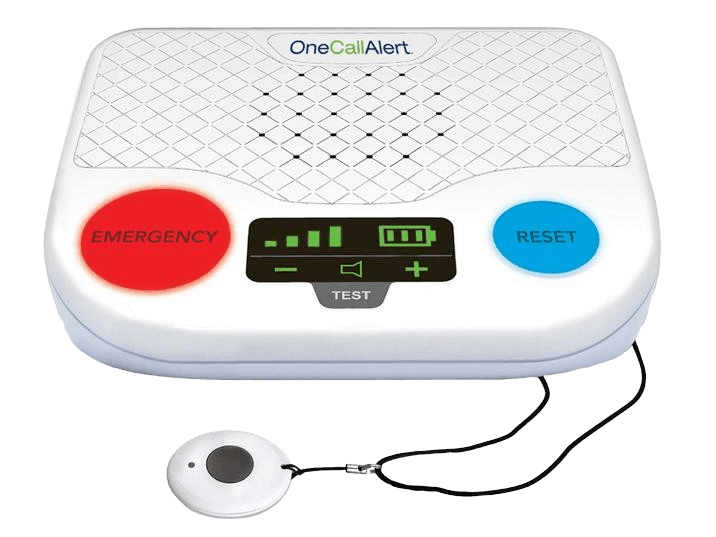 Our Favorite Medical Alerts
It can be difficult to choose the right medical alert system. To start your search, check out our list to help you find the best medical alert system for your needs. Below are some of our favorite medical alert systems for all types of needs.
Pro Tip: Bay Alarm Medical recently introduced the first in-car medical alert system, which can track your location in addition to sending distress calls in the event of a crash.
Medical Alert Systems at a Glance
| Type of System | Protects | Equipment | Monthly Costs | Ideal For |
| --- | --- | --- | --- | --- |
| In-Home | In and around the home | Purchased or leased | $19.95 to $49.95 | Users who spend most of their time at home |
| Mobile | Outside the home | Purchased or leased | $24.95 to $60 | Active adults who often leave the house |
| Smartwatch | Outside the home | Purchased | $24.95 to $44.95 | Active adults who want a discreet medical alert |
| Bluetooth | Outside the home | Purchased | N/A | Smartphone owners who want to avoid monthly subscription charges |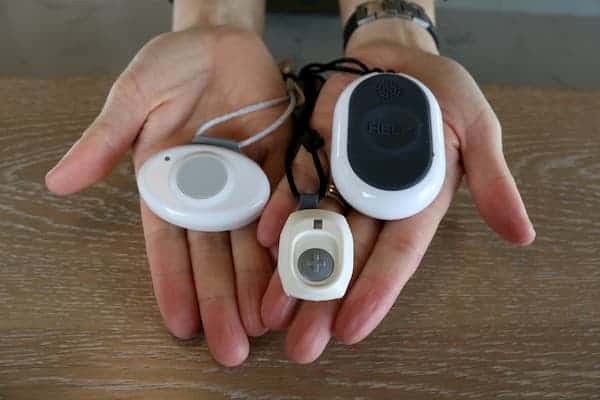 Additional Features of Medical Alert Systems
No two medical alert systems work exactly the same, so it's important to choose a system that has the additional features you need. Here are some to look out for:
Automatic fall detection: Arguably the most essential add-on for any medical alert system, fall detection automatically triggers a distress call when it senses you have fallen. This feature typically costs an extra $10 per month.
Backup batteries: Since in-home systems are powered through a wall outlet, it's important that they have a backup battery to maintain power during an electrical outage. Medical Guardian's in-home system, for example, has a backup battery life of 32 hours.
GPS technology: If you're looking for an on-the-go medical alert system, make sure it has GPS technology so the responders will know where to find you if you trigger a distress call while running errands.
Spouse monitoring: Most medical alert systems include only one help button, but it's nice to be able to add more buttons instead of purchasing additional systems if you live with a partner or roommate. LifeFone, for example, offers spouse coverage at no additional cost.
Medication reminders: For people who have trouble managing their medications, many medical alert companies offer daily reminders from their monitoring centers.
Water-resistant help buttons: Since the bathroom is one of the most common sites of falls, it's important that a system's help buttons can be taken into the shower. Most companies offer water-resistant buttons.
Voice commands: Most medical alert systems rely on pushing buttons to make emergency calls, but some modern systems now support voice commands. For example, Aloe Care's in-home system can contact monitoring agents when the user says, "Emergency."
Smartphone apps: Many medical alert systems can now pair with smartphones. The system's user does not necessarily need a smartphone; rather, caregivers and loved ones can download an app to receive help notifications, set a care schedule, or even monitor a system's battery life.
Motion sensors: Whether they're tucked away in the base station or built into the help button, motion sensors can track your movement and alert the monitoring center if your system goes for a length of time without detecting movement.
Risk-free trials: Since there is no one-size-fits-all solution for medical alert systems, I recommend choosing a provider that offers a risk-free trial period. Most providers allow at least 30 days, during which you may return your equipment for a full refund.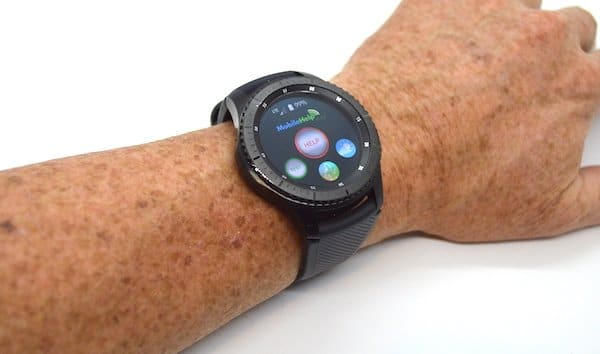 Hands-On Medical Alert Reviews
At The Senior List, our team performs thorough tests of each system, ensuring the quality of devices, their performance, and the overall customer service experience. If you have a particular company in mind, then I'd recommend looking at our detailed reviews.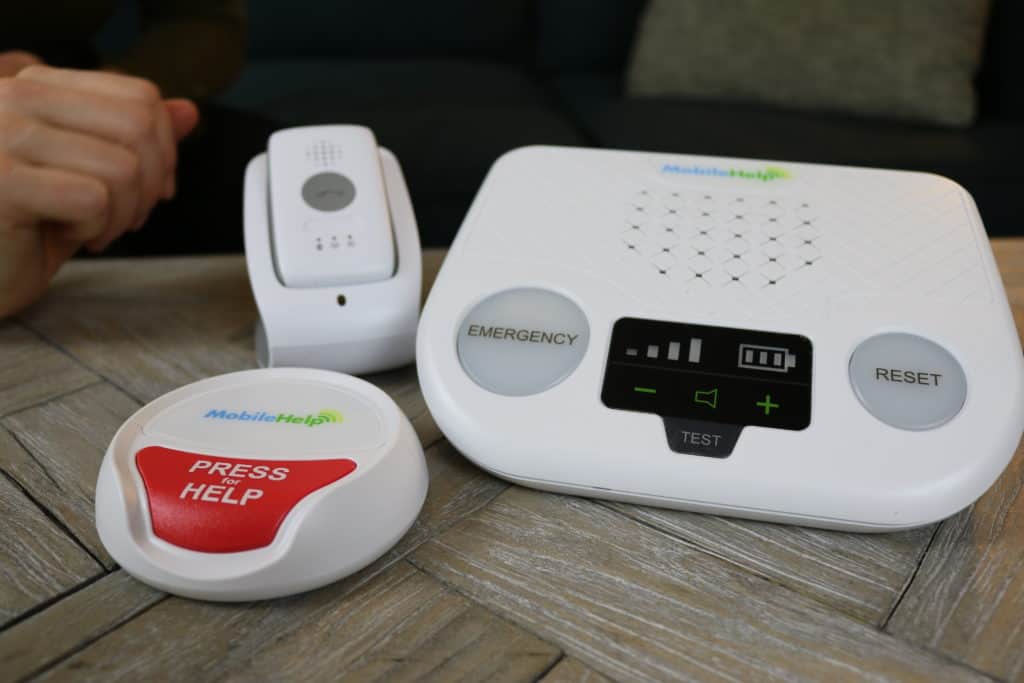 How to Buy a Medical Alert System
Most medical alert systems can be purchased either over the phone or through a company's website. Before purchasing a system, it's important to know what goes into the price you're charged.
FYI:Medicare won't cover your medical alert system, but there are other ways, such as insurance and Medicaid, to offset some of the costs.
Purchasing vs. Leasing
In most cases, medical alert companies will not require you to purchase their equipment. They'll instead charge you a monthly rate that includes the cost of both leasing the system and professional monitoring. When you lease equipment, you typically won't have to worry about breakage or repairs since the company will simply send you new equipment if yours malfunctions or gets damaged.
Some companies, however, either require or allow you to purchase your system up front. That will bring down your monthly costs, but it also means a provider will repair or replace your equipment only for the duration of its warranty. Smartwatch and Bluetooth medical alert systems usually must be purchased.
Monthly Monitoring Charges
All medical alert systems require a monthly charge for professional monitoring. If you lease your equipment, both the equipment costs and monitoring charges will be lumped into one payment. Monitoring costs range anywhere from $19.95 to $60 per month, but discounts are often available for annual — as opposed to monthly — payments.
Some medical alert companies offer different tiers of monitoring. Lively Mobile Plus, for example, has three price levels. The cheapest option includes access only to the company's monitoring center, while the most expensive plan adds fall detection, a nurse hotline, and a caregiver portal.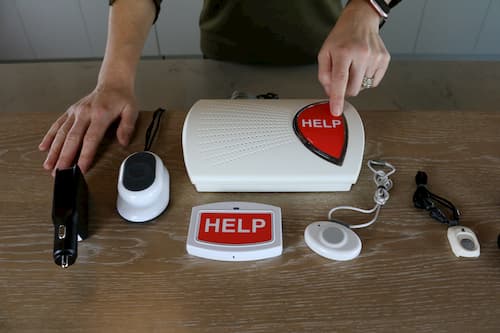 Medical Alert Systems and Pricing
Some companies are transparent about their products' costs, but that's not always the case. To save you time, we've compiled detailed pricing and device information on all the best medical alert providers.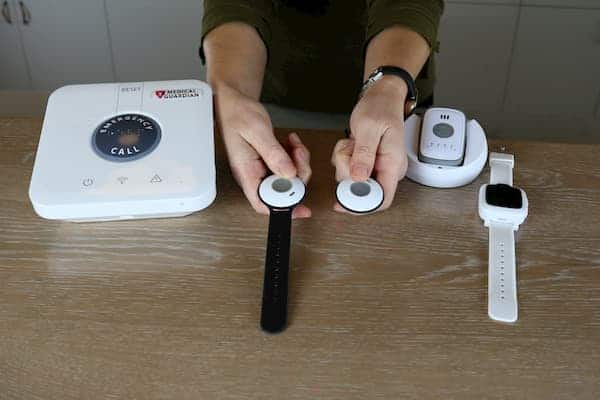 9 Questions to Ask Before Purchasing a Medical Alert System
As you begin your search for the ideal medical alert system, keep in mind the following questions:
Do you spend most of your time at home, or do you frequently find yourself out and about?
Do you have a landline, or do you require a cellular system?
Do you prefer wearing a help button as a pendant or as a wristband?
How large is your home, and will a system's range cover you in every room?
Are you prone to falls, and will automatic fall detection come in handy?
Do you live alone, or would a spouse or roommate require an additional help button?
Do you need only emergency monitoring, or would you prefer a system that can also put you in contact with loved ones?
Does the system automatically test itself to ensure proper function?
If you don't like your system, can you return it for a refund?
Pro Tip: Many providers will offer you discounted rates for signing an annual service agreement, but you should be wary of any medical alert provider that requires you to lock into a long-term contract.